A familiar sight? Yes there is a better way...
This sight is all too familiar... shown here is a recent photo taken by one of Hustler Equipment's field consultants, this Ranch is now eliminating the excessive hay waste shown here and reaping the rewards of beautiful pastures, more effective manure use, and even live weight gains in their herd.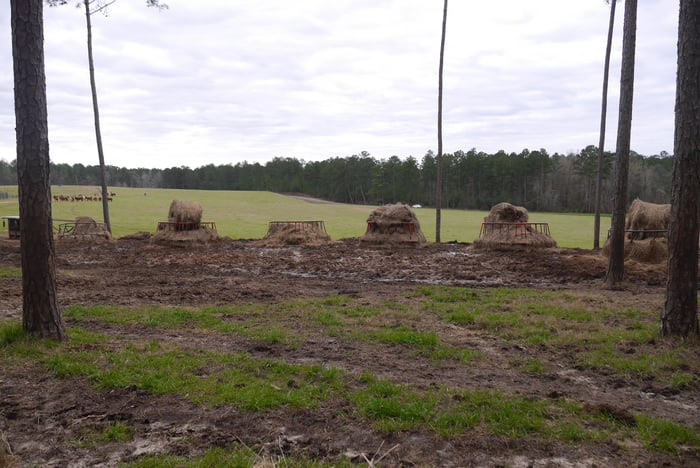 In the example in the picture above there are 6x bales and 6x hay rings/racks for 60-80 cows. As you can see each bale is less than half eaten for 4 reasons:
Refusal - Due to the bale deteriorating each day as it weathers
Contamination - Hay being dragging into the mud and spoiled
Impalatable - Because the bale is not broken down the cattle need to tear apart the bale themselves, reducing the amount they consume.
Over feeding - In order to allow each cow to gain equal access to the feed, 6 bales are required to be put out. This also causes over feeding.
---
A solution exists –
and it's Hustler's unique
'Hay-Buffet' feeding system.
Imagine a 'Hay-Buffet' bale feeding system that:
Allows each bale to serve 100+ cattle equally.

Allows the bale laid out in a long swath

so

your cattle can

serve

themselves.

Teases apart the bale without destroying the nutritional goodness, making it easier for your stock to receive all the nutrition you've put into a bale.
Spreads manure throughout the pasture, eliminating concentration areas.
Doesn't turn the beautiful pastures on your ranch into a muddy and infectious bog.
And imagine all of this in a package that makes feeding so efficient, our customers see more than 40% savings in feed costs.